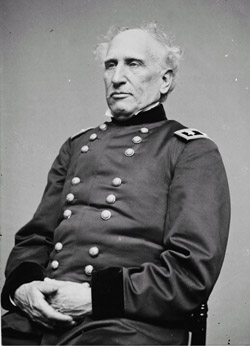 Library of Congress photo (LC-DIG-cwpb-05572)
Silas Casey entered the United States Military Academy at West
Point, in 1822. He graduated in July of 1826 and was brevet (and
promoted) second lieutenant and assigned to the Second Infantry.
Serving in the Great Lakes region and the frontier he was envolved
in a skirmish with hostile Indians in 1828. Casey was promoted to
first lieutenant in June of 1836 and to captain in July of 1839. Casey
served in Florida, during the Second Seminole Indian War, under
General William Worth. In 1842, during the battle known as the Big
Hammock of Pilaklikaha, Casey lead the advance during the route
of Halleck Tustennuggee's band of Seminole Indians.
During the Mexican War, Casey was engaged in the skirmish of
Oka Lake and the battles of Contreras, Churubusco, Molino del
Ray. While leading an assaut column, during the storming of
Chapultepec, he was severely wounded. In August, 1847, Casey
was brevet major for gallant and meritorious conduct in the battles
of Contreras and Churubusco. In September, 1847, he was brevet
lieutenant colonel for meritorious conduct at Chapultepec. In 1849
he escorted a topographical party to California.
In 1854 Casey was a member of the Board of Officers that met to
revise the Rifle and Light Infantry Tactics. He was was also on a
Board for a Dragoon Manual for Colt's Revolver and a Board for
Examination of Breech-loading Arms.   He was promoted to Lieutenant Colonel in March of 1855 and was transfered
to the Ninth Infantry (Washington Territory) where he engaged in operations against hostile Indians. From August
10 to October 18, 1859, during the Pig Island War, Casey commanded Camp Picket on San Juan Island.
Casey was appointed Brigadier General of Volunteers, in August of 1861 and was promoted to Colonel, and transfered
to the Fourth Infantry, in October or 1861. He was in command of a division (2nd Corps, Army of the Potomac) during
the Peninsular Campaign and received a brevet to Brigadier General, in May of 1862 for gallant and meritorious conduct
at the battle of Fair Oaks, Virginia. In May of 1862 he was also promoted to Major General of Volunteers. Casey served
the remainder of the War in administrative positions and, in 1863, was President of the Board for examination of
candidates for officers of colored troops. For a period he was in command of a provisional brigade that was part of the
defenses of Washington, D. C. Casey was brevet Major General, United States Army, for gallant and meritorious services
during the Rebellion.  In 1867 he served as Commissioner to examine war claims of Ohio.
Silas Casey retired in July of 1868 after more than 40 years in service.
Silas Casey is the author of the 3 volume
System of Infantry Tactics
adopted in August of 1862 and of
Infantry Tactics
for Colored Troops
adopted in March of 1863.